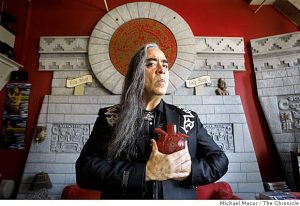 GUILLERMO GOMEZ-PENA PERFORMS AT WOOSETR ON APRIL 15
Post-Mexican writer and performance artist Guillermo Gómez-Peña will bring his unique combination of embodied poetry, performance-activism, and theatricalizations of postcolonial theory to The College of Wooster when he presents "Strange Democracy: The Border Wars" on Friday, April 15, in Freedlander Theatre (329 E. University St.).
The performance, which begins at 8:15 p.m., reflects on the post-9/11 era, the current "border wars," and the formidable challenges facing President Obama. Described as "Chicano cyber-punk" and "ethno-techno art," Gómez-Peña's inimitable solo performances have been hailed by critics. Tickets are $9 for general admission and $6 for senior citizens. College of Wooster students, faculty, and staff will be admitted free of charge. For more information contact Alyssa Lee Wilmot at awilmot@wooster.edu
To reserve tickets please call the box office at X2241.